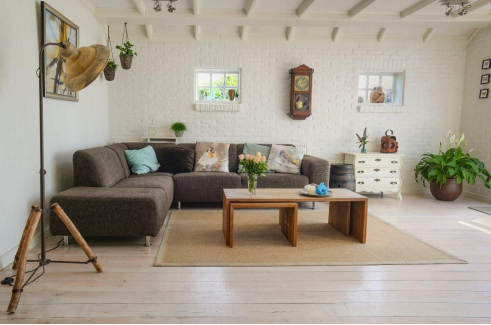 For anyone that has ever lived in a small apartment, you know that every inch counts when it comes to making the most of your limited space. Trying to find order in confined square footage can seem like a daunting task at first. Creating a spacious atmosphere in a limited-size place will take some creativity and pre-planning. Whether you are living out your best Carry Bradshaw life in the city, settling into your forever home, or sticking to a budget, these tips on how to maximize space will be sure to help.
Less is More:
Choose a few large statement pieces instead of lots of small furniture items! Proportions of furniture will be your best friend when attempting to make a small space feel larger. Having one large piece of furniture in a room can create an illusion to your guests that your space is larger than it is. This also eliminates a problem that many owners face. Many people will buy lots of small items, that end up taking up more space than if they had bought one large one. For example, instead of choosing multiple chairs for a living room, select a full size sofa and one smaller seating option. Get the larger sophisticated or retro statement piece you've always dreamed about instead of spending money on extra furniture items you don't need. Your home and wallet will thank you!
Conceal and Eliminate Clutter:
Investing in storage items will be your biggest asset when trying to create an airy and open atmosphere in your home. Even after getting rid of non-essential items from your life you still will need space to put your extra clothes, shoes, and other items that might not fit into your overflowing closet space. Underbed storage can be a great asset to use when combined with organized containers and bins. Invest in a sheet and duvet set that falls to the ground to hide less sightly boxes and items below your bed. Another option is to invest in functional and cute furniture storage items! There are also many stylish storage baskets that can be functional and used as decoration in kitchens, living rooms, and bedrooms.
Create Illusions with Accessories:
One of the oldest tricks in the book for creating more space in your home is the use of natural light! Open up those blinds and curtains to let in as much real light as possible. Another solution for this is to buy thin and white curtains for most rooms in your home. This allows you to have privacy, while still inviting a bright and inviting vibe into your home. The same goes for paint colors on your walls. Ditch the heavy and dark colors for light and neutral palettes to add dimension to the space. Lastly, mirrors can help to create an illusion that the room is expanded outwards, and looks wider than it really is. Hang mirrors above large furniture items to force perspective and make your room seem taller as well. With some creativity, well-thought out layout design, and storage space, you will have your dream space!
- Lisa Small, Guest Author